Customer Reviews
09/08/2021
Chloe C.

New Zealand
Amazing ceremonial cacao
It was shipped super fast in level 4 because it is essential to us as our morning self love ritual! Thank you
09/05/2021
Linda B.

Sweden
Very good
Lovely. Nice packaging, great instructions and very good taste.
09/05/2021
Irah H.

New Zealand
Natural goodness!
Absolutely love this product, first tried it at a local cacao ceremony and was amazed from the benefits. Decided to buy some for home and was the best decision ever. Beautiful quality and packaged conveniently for time and time again use. It's reassuring to know it's ethically sourced too. Giving the people who make the magnificent natural wonder available to us, the recognition and compensation they rightfully deserve. Looking forward to purchasing my next lot and trialing the other products Selento health has to offer :)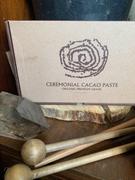 09/02/2021
Willow R.

New Zealand
Lovely!
Amazing quality, fast shipping, eco friendly brand!
08/29/2021
Jenna H.

New Zealand
Rich, delicious cacao
The most consistently delicious cacao! Love the transparency ethos the company has and the education behind how and why to consume this beautiful medicine. Muchas gracias
FREQUENTLY ASKED QUESTIONS
We've collected all of our most common questions into a useful guide for you, to explore maca a little deeper.
Hit the link below.