Customer Reviews
10/17/2021
Adela B.

New Zealand
The best Ceremonial Cacao you can get in New Zealand
Not just the amazing quality, but the whole story behind, the owners of the business personally interacting with the farmers, understanding the indigenous traditions, all the amazing benefits if Mama Cacao and much more. I am so grateful for all that you are doing!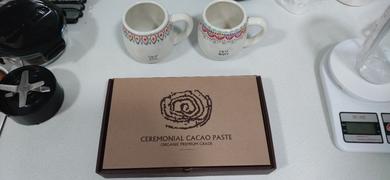 10/02/2021
Julia S.

New Zealand
Lovely!
The product is great, high quality, great taste, really enjoy it! Having a pre-shaved 1kg option would also be great as sometimes it's hard to know how much to cut off but that is jus a convenience thing.
10/02/2021
Pharaeus L.

New Zealand
Yay!
Still working my way through it. Bliss
09/08/2021
Chloe C.

New Zealand
Amazing ceremonial cacao
It was shipped super fast in level 4 because it is essential to us as our morning self love ritual! Thank you
09/05/2021
Linda B.

Sweden
Very good
Lovely. Nice packaging, great instructions and very good taste.
FREQUENTLY ASKED QUESTIONS
We've collected all of our most common questions into a useful guide for you, to explore maca a little deeper.
Hit the link below.