CEREMONIAL CACAO
Following the ancient cacao trail from South to Meso America working with the holders of indigenous knowledge we have found you the best quality, most authentic and premium ceremonial cacao in the world. Made with absolute reverence to the ancient people who have cultivated it for thousands of years. Ethically sourced, sustainably produced and scientifically analysed to prove it to be the most medicinal and healing. Indigenous plant wisdom made by indigenous people.
Cacao Sampler Pack - Try one of everything
Try the Cacao Sampler Pack and experience all the amazing benefits of cacao! With 250g each of cacao nibs, ceremonial paste drops, cacao butter, and cacao powder, you can incorporate cacao into your day in every form. Taste Peru with every bite and support rescue cacao that is helping farmers and communities. Get yours today!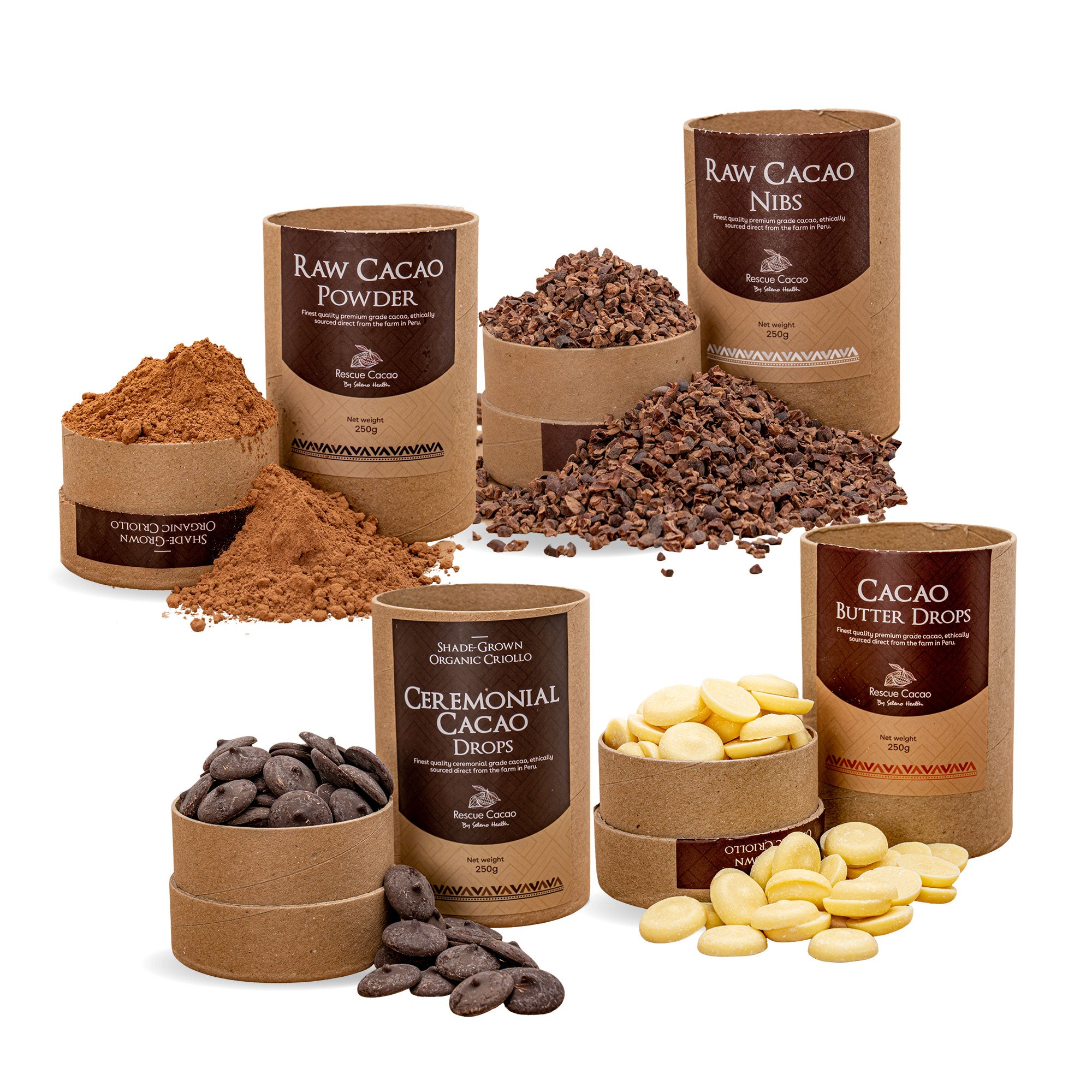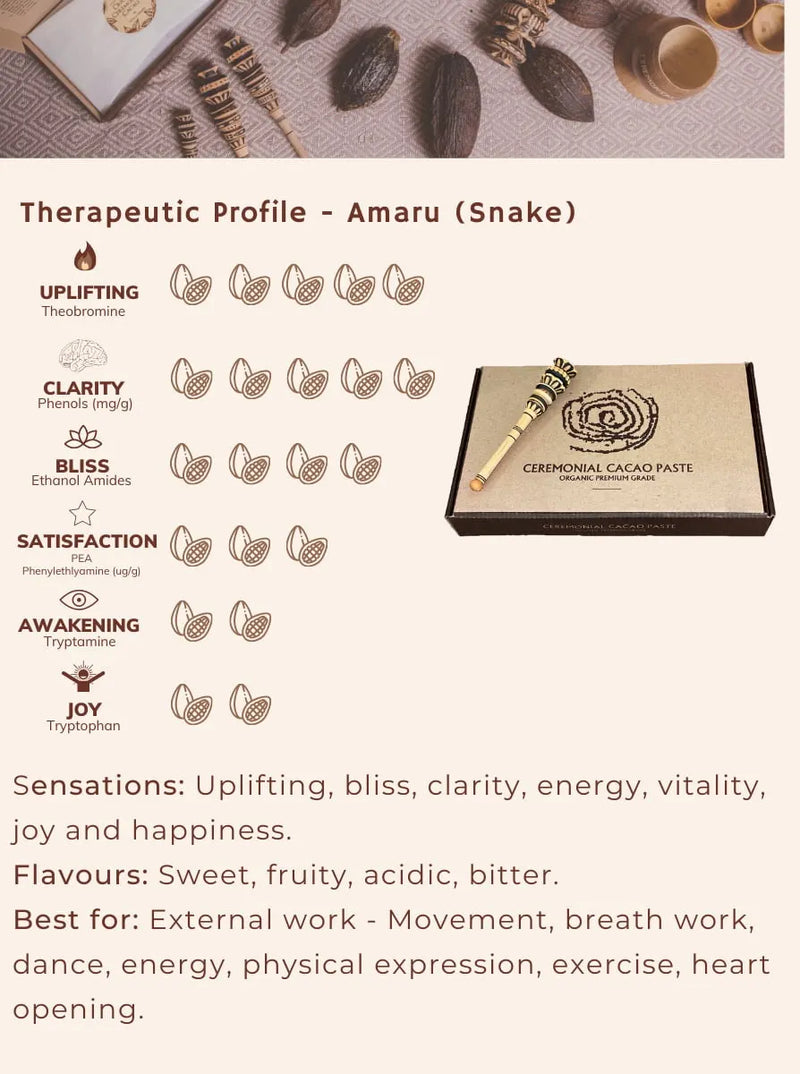 Amaru Ceremonial Cacao - Ukhu Pacha (The Spiral)
This high-vibrational Ceremonial Criollo Cacao has been produced with love and pure intention in honour of the Awajun tribe in Peru who have used cacao in ceremony for over 5000 years. Their ceremonial cacao temple at Monte Grande (Peru) was constructed in the shape of a spiral to represent union of the human spirit with the universe, connection to our ancestors of the past and projection forwards to our future descendants. It is thought to symbolise also the Ukhu Pacha (underworld) in Andean and Amazonian cosmovision represented by the snake (spiral shape). For them cacao allows connection to the divinity and a way to resonate gratitude and thanks for everything mother earth (Pachamama) provides. Each block comes blessed direct from the farm and directly supports the farmers and community who produce it in Tocache, Peru.

This cacao has an incredible ratio of 29:1 - theobromine:caffeine. Perfect for the uplifting, heart opening effects without the negative side-effects of caffeine over-stimulation. Our biochemical analysis has shown it to be also potent in levels of ethanolamides (NAEs) for feelings of intense bliss, polyphenols for mental clarity and tryptophan for sensations of joy and happiness
Uturunku Ceremonial Cacao - Kay Pacha (The Jaguar)
In Chavin cosmovision, the Uturunku (Quecha meaning Jaguar) represents a protector, a guardian, and a being that creates harmony and balance in the Amazon. The Uturunku represents the 'Kay Pacha', (the world of the here and now) and reminds us that we are not separate from the natural world. It can also access the Hanan Pacha (world above – spiritual world) and Uku Pacha (inner world – ancestral world) through the master plant cacao. We honour the Chavin culture and the Uturunku with this special ceremonial cacao paste, specifically created to bring you into the Kay Pacha - here and now. It is carefully hand selected from a unique indigenous form of cacao grown specially for us in an artisinal agro-forestry farm deep in the Amazon jungle of Tarapoto, Peru. Each high-vibrational block comes blessed direct from the farm and directly supports the farmers and community who produce it.

This ceremonial cacao is like no other, with our scientific studies showing it to be ultra potent in levels of biogenic amines like tryptamine and phenylethylamine (PEA) for feelings of intense satisfaction, embodiment and spiritual awakening. It also contains high levels of tryptophan for sensations of joy and happiness.
Who we are
Corin from New Zealand met Sally from Peru while traveling around South America. She shared her culture and heritage with him and took him to the jungle of Peru to learn about cacao - one of her most sacred plant medicines. Sally, an industrial engineer was working in a bank in Lima at the time but her ancestral lineage stems from the Andes of Peru and the Jungle regions of Mesoamerica. She taught him about the philosophies of Andean cosmovision, gave him maca and cacao and shared her amazing ancestral plant knowledge with him. Corin, a medical researcher (PhD) and scientist was struggling with his mental health and found the journey, connection and plant medicines transformed him and his life. He was able to come off his anti-depressants and has never looked back.
Together they found an artisanal farmer and community in Peru who shared their passion and created a pure, heart opening ceremonial cacao paste to help people like Corin in New Zealand looking for a deeper feeling of connection and way to promote self-healing through the spirit of cacao. Sally as an engineer was able to work directly with their farmer to produce the finest quality cacao paste and ensure that it was prepared following the correct ancient ancestral traditions required to enhance the cacao's energetics. She also worked to create a
rescue cacao program
 that promotes sustainable and ethical production of cacao, protecting farmers in Peru and promoting reverence and respect towards the indigenous people. Sally runs
workshops
in New Zealand to share her incredible ancestral knowledge of Andean cosmovision and cacao. Corin uses his scientific knowledge to run a research program that studies the
biochemistry of cacao
to help substantiate the traditional uses.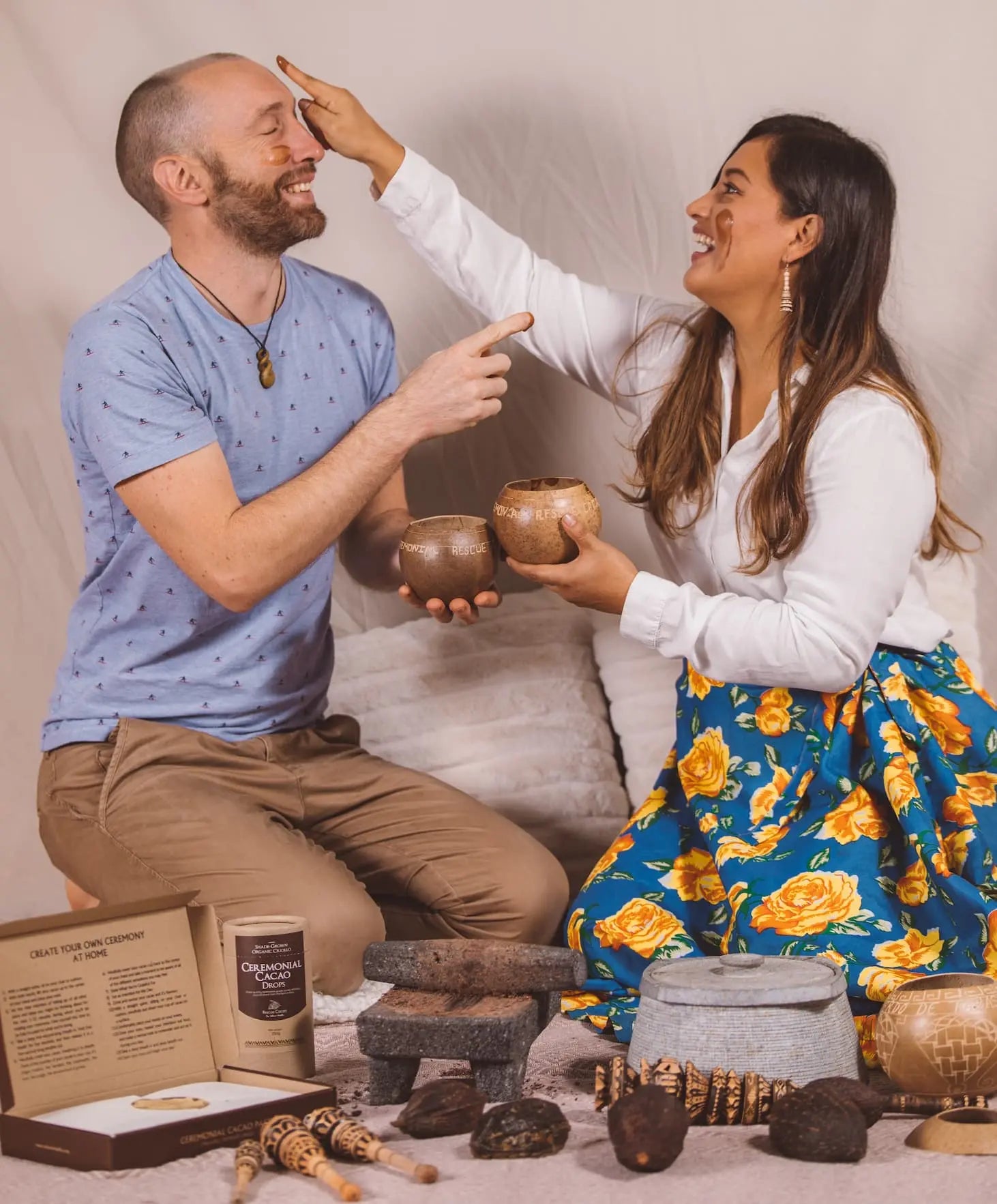 Meet Our Uturunku Cacao Farmer
Growing up in Jaen - Northern Peru, known as the birthplace of cacao where it was first domesticated some 7500 years ago, Arturo learnt about the sacredness and medicine behind this special master plant. His dream was to be able to grow cacao in an ancestral way with reverence, love, respect and tradition to bring this medicine to the world. He now spends his time crafting the world's finest ancestral cacao in his farm near Tarapoto, Peru. He is a plant specialist and has incredible ancestral knowledge of the flora and fauna that surround his cacao. A true bushman who thrives in the jungle environment and has such a passion for connecting to Pachamama (mother earth). His cacao in honour of the tribes of Jaen and central Peru is called Uturunku - meaning the jaguar, named after the middle world of the Andean-Amazonia trilogy. Each block is crafting with love following the ancient traditions of his people who were the first in the world to domesticate cacao. It is a powerful medicine that embodies us into the present, connects us to the natural world and allows us to journey inwards to reconnect and re-birth ourselves.
meet our Amaru cacao farmer - Rolando
Rolando is a native Peruvian from the Amazonian jungle who is proudly dedicated to the production of organic and fair-traded cacao. He is pioneering the resurgence of traditional cacao growing and production in the area of Peru previously heavily affected by drug cartels and the illegal cocaine industry. Rolando has applied his skills and expertise to promoting the image, production, transformation and quality of Peruvian cacao to put Peru on the world map with artisanal cacao and chocolate production. His push for social sustainability and environmental harmony with cacao farming is bringing big change to an industry that has previously struggled with exploitation of farmers, communities and the Amazon jungle. Rolando's cacao represents the courage and perseverance of many farmers who decided to sow the best, finest cacao in the world in the face of adversity. They have found in this boldness the hope of transforming their lives through love, working in conditions of equality, justice and a passion for biodiversity and the environment.

"This love is the main ingredient in their cacao."

We 100% support the mission of Rolando and his people to Rescue Cacao in Peru and return the love, respect, environmental protection and culture that has been lost through global commercialisation and corruption in the industry.
100% PURE CEREMONIAL CACAO FROM PERU
"As a Peruvian - Kiwi family business working directly with our farm we thank you for supporting us on our mission to bring you ethical, sustainable, premium quality, therapeutic cacao made with love and reverence towards the indigenous people of Peru." - Corin and Sally, the creators of New Zealands most specialised ceremonial cacao paste
Buy Now