Is important to know the different types of maca, how to consume them and the benefits each type brings. There are five main different forms of maca, each has different properties and characteristics. It is extremely important to check the label of any maca product to know the preparation and how to consume it, this way you are getting the health benefits from the plant and more importantly, you are avoiding any possibility to put your health at risk.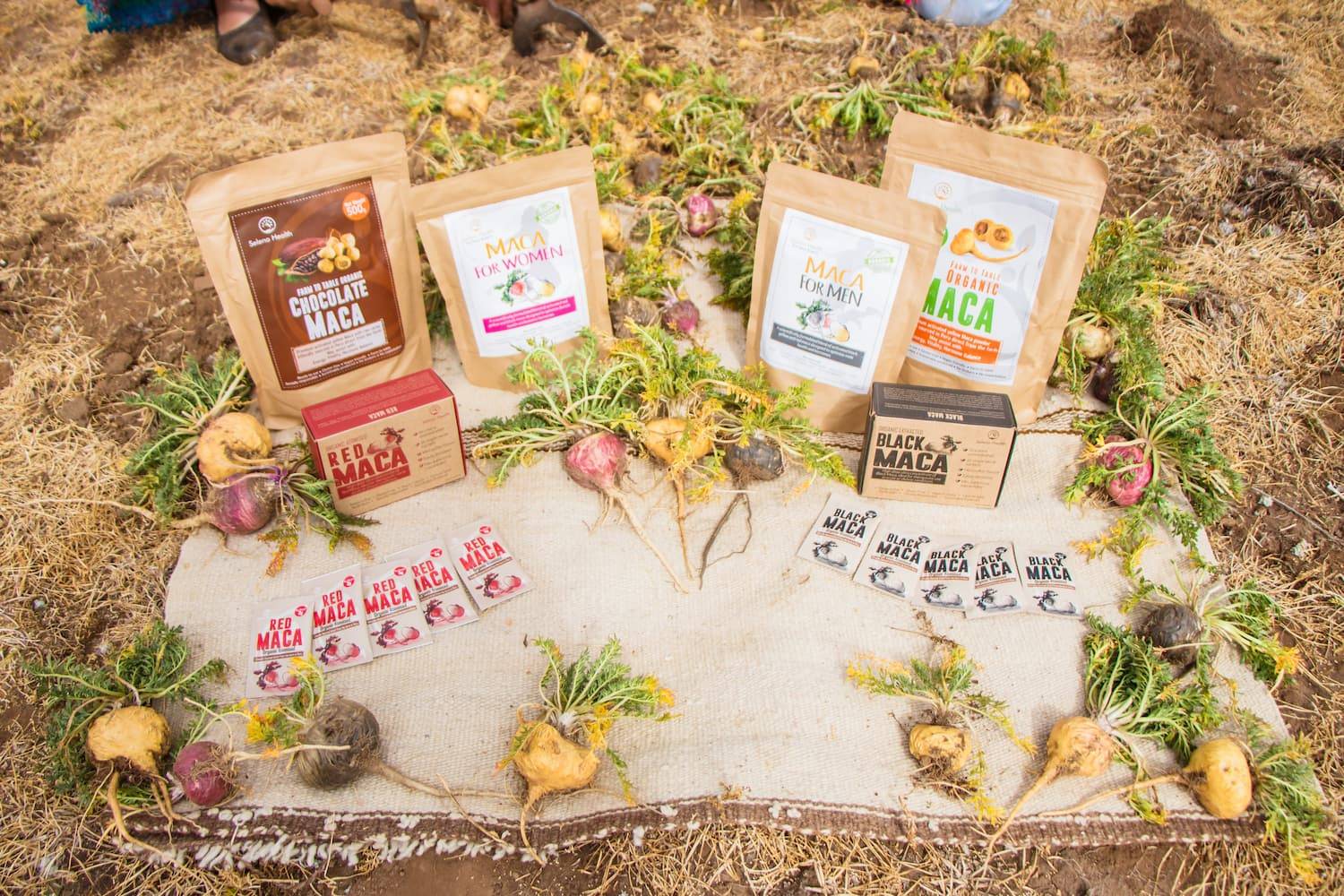 Fresh maca (Maca Fresca) – Although fresh maca is a good source of carbohydrates, minerals, fatty acids and glucosinolates, it lacks bioactive macamides, which are the key therapeutic component of maca, component we get when it has been dried. That is why, in Peru maca is rarely consumed fresh, it does not have medicinal properties this way. When it is consumed fresh, it is usually boiled and processed like a potato in soups or stews due to its carbohydrates and mineral content.

Dried maca (Maca Seca) – This is the most common way they consume maca in Junin (Peru). They air dry fresh maca for 3 months at altitude during the dry season from July to October. Dry maca is usually consumed boiled in teas, porridges, soups, and stews. The most consumed Incan tea from the region of Junin is a mix of cinnamon, cloves, dried maca pellets and often pieces of fruit like green apple, pineapple, or peach. Sometimes this tea can be mixed with quinoa or oats for a more porridge-like consistency and is mixed with milk in the mornings, and it is considered as a powerful drink. And they are right, dried maca has been shown to have 10x higher levels of total macamides compared to fresh maca, it is considered more bioactive and preferable for therapeutic use.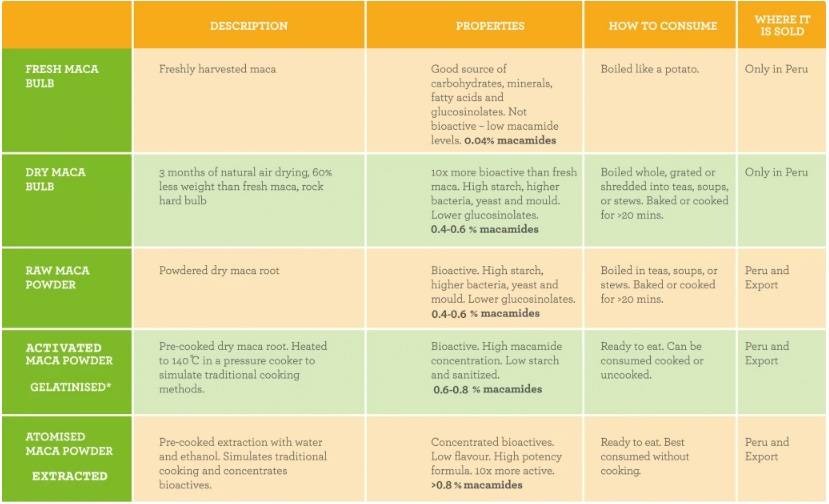 Figure - The five main different types of maca and how to prepare them to best get their properties
There are three types of maca powder available for export: raw maca, activated (gelatinised) maca and concentrated (atomised) maca.
Raw maca (harina de maca) – is the result of milling the dried maca roots until we get a fine powder. Raw maca has a big starch, bacteria, yeast and mould content; and that is the main reason it needs to be boiled and cooked; not just because this way we "activate" the macamides; but also, because this content of high starch levels, glucosinolates, mould and aflatoxins, can put your health at risk. It is often boiled into tea, porridges, soups, and stews, or used in baking as well. Raw maca by itself has a strong "earthy" flavour and is quite tart and odorous, leaving an unpleasant taste in the mouth. Our advice is to never eat raw maca.
Activated (gelatinised) maca (maca gelatinizada) – This type of maca can be cooked or eaten straight in raw foods, that makes it the most versatile type of maca. This is a more potent bioactive powder, with a higher macamide concentration, low starch content and is sanitised to protect your gut biome. Activated (gelatinised) maca is the result of an industrial technique that enhances the traditional Incan cooking by applying pressured heating to raw maca powder at 140° C for approximately 10 seconds. Activated maca has a sweeter, more palatable malt caramel flavour that allows it to be consumed raw or cooked. This is why It has become the most exported powder out of Peru and the most versatile and ideal for modern healthy lifestyles, as it can be consumed in smoothies, bliss balls, lattes and raw food applications.
NB activated (gelatinised) maca DOES NOT contain gelatin – it is 100% vegan friendly.
Atomised (extracted) maca (extracto de maca) – This is a pre-cooked extraction of raw maca from water and plant-based alcohol. It simulates traditional maceration of dry maca roots for the purpose of concentrating the bioactives. This high-potency formula of maca is 10x more active than raw maca. It has a very high concentration of macamides and is designed for specific therapeutic use in treatment of acute or chronic conditions. This maca powder rapidly absorbs water and oxidises, so it must be stored in air-tight containers and away from moisture. As it has a sweeter caramel flavour, is ideal to consume it straight in water, tea, juices or smoothies.

(Left) Raw maca powder must always be consumed cooked.
(Middle) Activated maca does not need to be cooked and is ready to eat.
(Right) Concentrated maca is the high-dose extract of raw maca it can be consumed straight and is 10x more potent and faster acting.
Find the right maca for you